Route 6 in Mohegan Lake
Northern Westchester County, New York
Located 1.5 miles west of the Taconic Parkway & Route 6 intersection
Click here for driving directions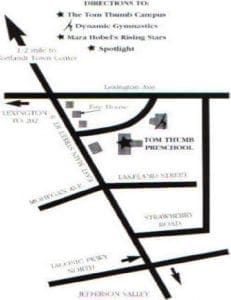 Local Map -- click on map to enlarge it
Click on the picture of the Tom Thumb Preschool main building to enlarge it
Tom Thumb Preschool Serves the North Westchester and Putnam County Areas:
Our students come from the school districts of: Yorktown, Lakeland, Peekskill, Putnam Valley and Mahopac. Our school is located directly on Route 6 and is easily accessible by several highways (Route 6 & Taconic Parkway, Route 202 & Lexington Ave. and Oregon Rd & Red Mill Rd.).
Tom Thumb Preschool
1949 E. Main St.
Route 6
Mohegan Lake, NY 10547
Office Phone: (914) 528-5600
Fax: (914) 528-0631
Located 1.5 miles west of the Taconic Parkway & Route 6 intersection
Your questions and comments are always encouraged and appreciated.
Telephone (914) 528-5600

Click to enlarge aerial view of the Tom Thumb Campus