Tom Thumb Preschool News in Westchester County
The following articles are about either Tom Thumb Preschool or Nancy Brophy, Tom Thumb's founder.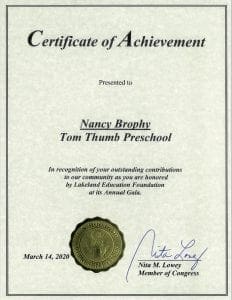 View the Certificate of Achievement to Nancy Brophy Tom Thumb Preschool by Nita M. Lowey, and click on US Congress Recognition of Achievement to read our blog article.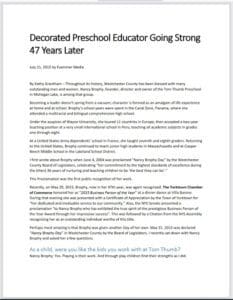 Read the interview of Nancy Brophy conducted by Kathy Grantham of The Examiner; click on Decorated Preschool Educator Going Strong to read a s the article as a PDF document.
Assemblyman Greg Ball presented Nancy Brophy with a New York State Assembly Citation for their full potential at Tom Thumb.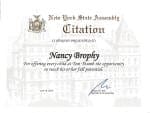 children to reach
Click on First to make a school allergen-free" to view the article A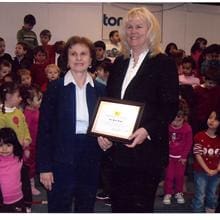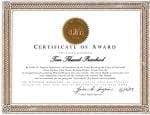 Special Boy Finds a Special Place in Mohegan Lake, from www.TheExaminerNews.com. This article is about Phillipa Sheard trying to get into a nursery school with food allergies.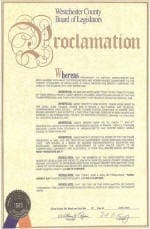 The Westchester County Board of Legislators has expressed gratitude to Nancy Brophy for her commitment to the highest standards of excellence in public service that has greatly affected the lives of our citizens by proclaiming Nancy Brophy Day in Westchester County on June 4.
To view the article on Nancy Brophy Day: Celebrating a Visionary, click on North County News Article. This article briefly discusses Nancy Brophy Day, as well as the Tom Thumb Preschool.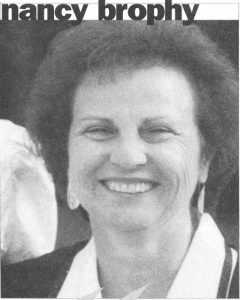 Click on Article about Nancy Brophy to view the article Boldstokes, a Special Feature from Westchester County Business Journal. This article is a discussion of Nancy Brophy as a maverick and mover who dares to make a personal mark by creating the Tom Thumb Campus. This article's major theme is children's physical fitness in today's environment.