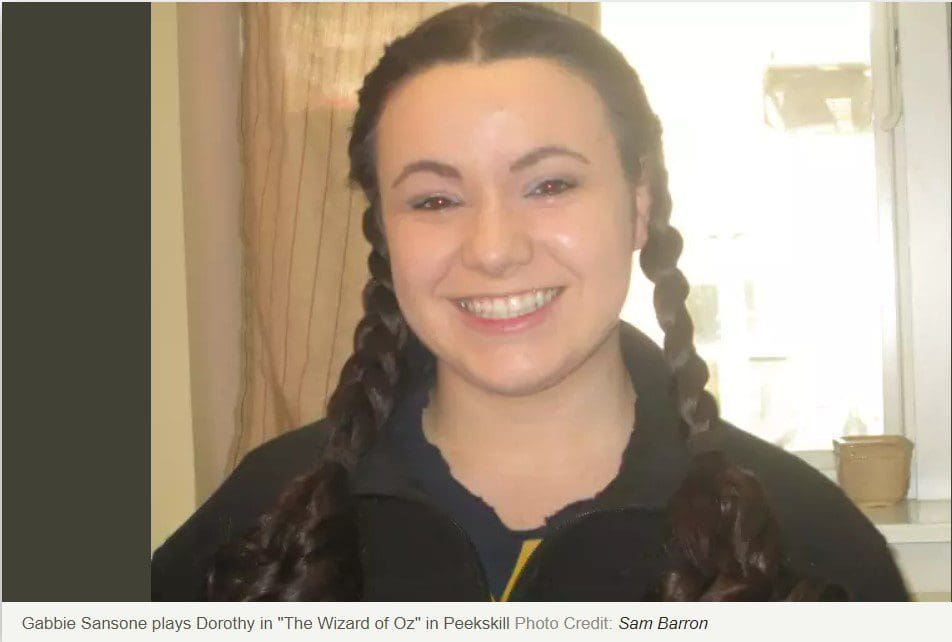 Dear Nancy,
Hope all is wonderful.
We wanted to share some exciting news with you.
Gabbie Sansone, (former Tom Thumber) has been cast in the feature role of Dorothy Gale in the Musical version of The Wizard of OZ for Jan 16 , 17 and 18th at the Paramount Hudson Valley in Peekskill NY.
Gabbie at 15 is the same age as Judy Garland when she played the movie role and as seen on Chanel 5 News the Authentic Yellow Brick Road is in Peekskill New York, right here in the Hudson Valley !!! Wizard of Oz Author L. Frank Baum attended Military school in the Hudson Valley and it is said the Area was the true inspiration for the book.
Gabbie Sansone, a Mohegan Lake resident & Tom Thumber, said playing Dorothy is a real treat.
I love Judy Garland and I love the movie," Sansone said. "It's an honor to play her part. I just hope to live up to it."
Gabbie has been fortunate enough to land a few TV spots and to perform off-Broadway, also she did a European Tour over the summer all the while keeping her straight-A grades.
As a Tom Thumb Alumni – We believe much of Gabbie's early introduction of music along with creative play and study at Tom Thumb helped to give her the early foundation and confidence in performing.
We know whether she is destined for Broadway or the Boardroom Gabbie will always be a Tom Thumb Kid.
Hope to see you soon, Wishes for a blessed Holiday!
Best
Deborah and Gabbie Sansone
Here's a video of Gabbie singing songs from Anne at age 11 at the Paramount Center for the Arts, Peekskill NY.
.