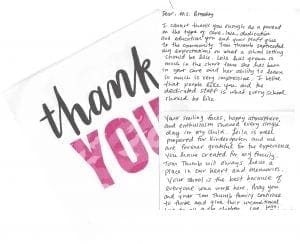 Dear Ms. Brophy,
I cannot thank you enough as a parent in the type of care, love, dedication and education you and your staff give to the community. Tom Thumb superseded my expectations on what a school setting should be like. Leila has grown so much in the short time she has been in your care and her ability to learn so much is very impressive. I believe that people like you and the dedicated staff is what every school should be like.
Your smiling faces, happy atmosphere, and enthusiasm showed every single day in my child. Leila is well prepared for kindergarten and we are forever grateful for the experience our have created for my family. Tom Thumb will always have a place in our heart and memories. Your school is the best because of everyone who works here. May you and your Tom Thumb family continue to thrive and give their unconditional love to all of the children.
Love, Leila, Michael and Shelly V.