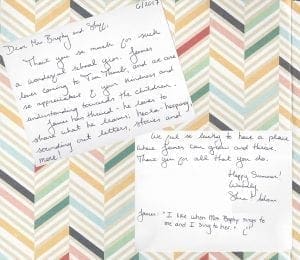 Dear Mrs. Brophy and Staff,
Thank you so much for such a wonderful school year. James loves coming to Tom Thumb, and we are so appreciative of your kindness and understanding towards the children.
James has thrived he loves to share what he learns: hoola-hooping, sounding out letters, stories and more!
We feel so lucky to have a place where James can grow and thrive. Thank you for all you do.
Happy Summer, Shea and Adam M.
James:likes when Mrs. Brophy sings to me and I sing to her.