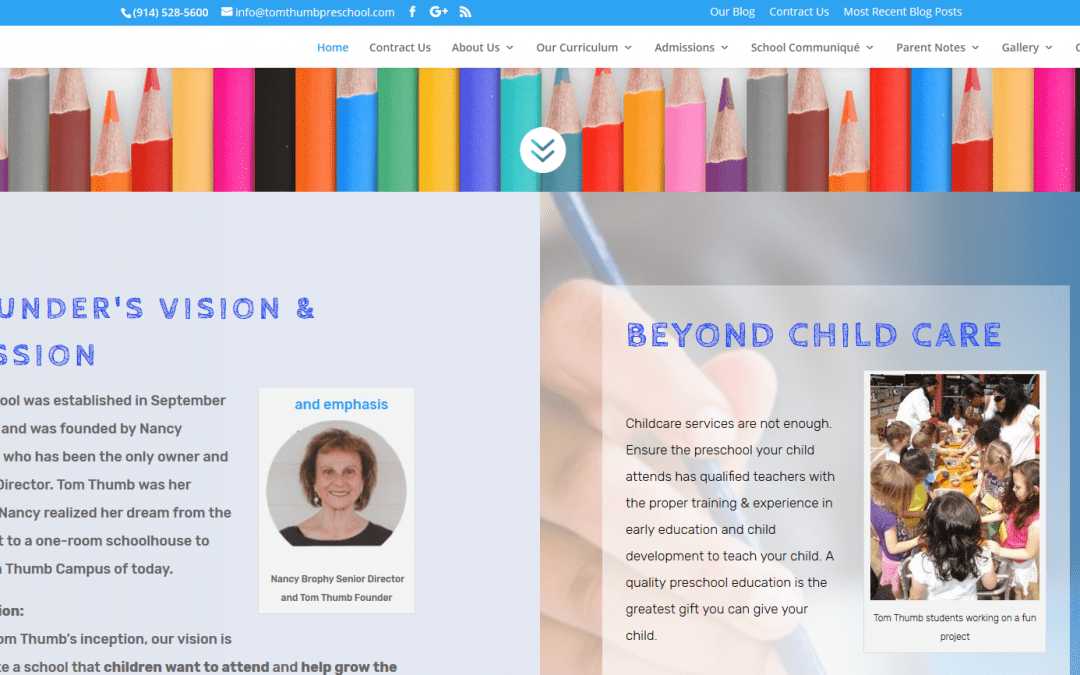 Tom Thumb Website History
Tom Thumb Preschool was founded in 1968. The Internet was not in existence then as it is today. At that time, we advertised in the Penny Saver and we got our students through word-of-mouth. Our first website was created on May 17, 2001. This small site had contact information including a few pages of content. We don't have a screenshot of the first site.
In 2007, We had a Meeting about Our Website
At the meeting, we started to think about our website as a useful promotional tool to disseminate relevant information to our customers. In 2008, Nancy Brophy began to come up with design ideas and do some preparation for new content on the new website. We wanted a new website to have a brand appeal to remind us of children and to present real information about our school and programs, instead of a sales talk.
Much of this original core content devised in 2008 by Nancy and her team survive today on the website. We still hold to our vision, mission, and beliefs while our school expanded and achieved success by educating over eleven thousand graduates. The screenshot on the right is taken from wayback.com. It is a rendition of our redesigned website of April 29, 2009.
On June 14, 2011, we created the current website as depicted with the screen-shot on the right. We kept most of the previous content and we included new information, programs, and new best-practices. The screen-shot on the right is based on HTML technology with WordPress for blog functions.
October 2019 We will Introduce a New Website.
Our New Website is Built to Better Serve Our Customers
Our New Website
We are proud to announce the new Tom Thumb Preschool Website with improvements to better serve our customers and the Internet audience. Our goal is to create a new website experience using state-of-the-art technology while keeping the same familiar look of our original site.
Our new website uses the most innovative "open-source" software available today as a content management system with the capability to add more function and enhance our web presence as our preschool continues to serve our true customer – our students.
Also, we made a significant change in the way we manage content. The new website greatly reduces programming efforts to more easily publish information and distribute the content directly. Our new website makes it easier to communicate with fewer steps to deliver content faster. It allows the Senior Director to get her messages out in real-time.
At Tom Thumb Preschool, we see technological improvements as the path to be more efficient and deliver more value quicker.
Our New Website is Focused on 3 Main Areas:
Provide information about our school, brand and messages from Nancy Brophy
Deliver information, tuition, and enrollment about our 5 Tom Thumb Programs:

ThumBelina
Junior & Senior Preschool
Stay & Play Safely
Catch Us if You Can Summer Camp

Communicate about our program schedule, calendar of events, school activities and articles
Our new website is designed to work with cell phones, tablets, and desktop computers to help visitors find the information easier by using a Search Box and a new menu system with an information structure that is easy to follow.
Please feel free to contact us about our website with recommendations, feedback, or suggestions by leaving a comment.
Thank you all for your support.