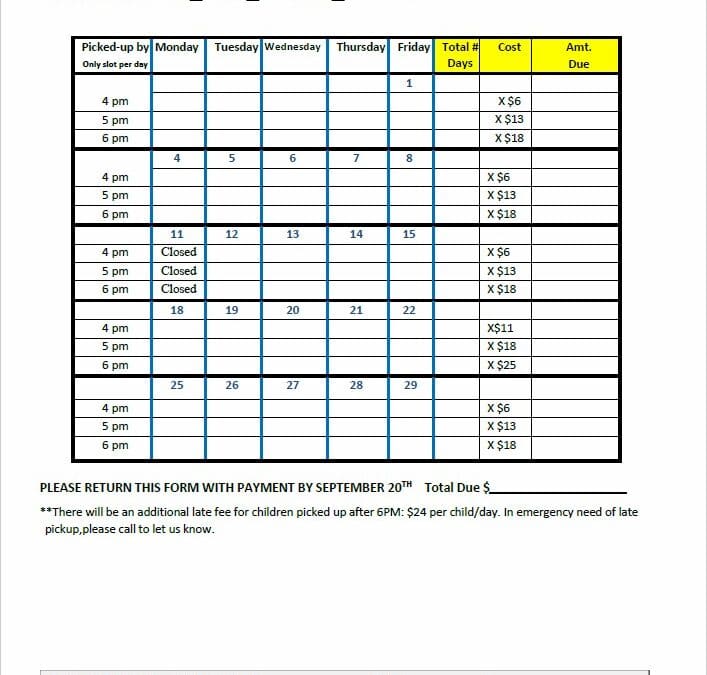 Our new procedure to specific Before and After School Care for:
ThumBelina
Juniors and Seniors Preschool
Stay and Play Club (for Lakeland School District Kids)
We have created new Before and After School Care monthly worksheets for you to specific your schedule and cost. Please obtain your copy from our office for the next month or download the Monthly Form below.
Brief Instructions to Complete the Monthly Form
Complete one Monthly Form for Each Child.
Write your child's name, parent name, phone number, and release code
For Tom Thumb students,

Circle or Select one:

Junior__ Senior__ Thumbeline

For Tom Thumb students,

__ Check if student is also registered for Before/ After Care



For After School Care

Check the days for the selected time slot you want for after school care
Count the days for each week and enter it into the Total # Days for the week.
Multiply the Total # Days by Cost and enter the result into Amt. Due for the week
Add the vertical column of Amt. Due and place the sum in the Total Due line item for after school care

For Before School Care

Check the days for the selected time slot you want for before school care
Count the days for each week and enter it into the Total # Days for the week.
Multiply the Total # Days by Cost and enter the result into Amt. Due for the week
Add the vertical column of Amt. Due and place the sum in the Total Due line item for before school care

Add both Total Due line items for After and Before School Care and write a check for this grand total.
Return the monthly worksheet with your check before the date stated on the worksheet adjacent to the Total Due
Example of a Completed Form
The following are the Monthly Forms for Before and After School Care

Each Monthly Form is a PDF file that contains the After School Care section first and the Before School Care on the next page. Download and print the two-page form with our published pricing and complete the appropriate sections. To download the Monthly Forms, click on the screenshot of the form or the Form Title below:
Monthly Forms for Tom Thumbers

Before & After School Care for
ThumBelina, Juniors & Seniors Students
January Monthly Forms for ThumBelina and Tom Thumb Juniors and Seniors Preschool Students – Click Here to Download
February Monthly Forms for ThumBelina and Tom Thumb Juniors and Seniors Preschool Students – Click Here to Download
March Monthly Forms for ThumBelina and Tom Thumb Juniors and Seniors Preschool Students – Click Here to Download
April Monthly Forms for ThumBelina and Tom Thumb Juniors and Seniors Preschool Students – Click Here to Download
May Monthly Forms for ThumBelina and Tom Thumb Juniors and Seniors Preschool Students – Click Here to Download
June Monthly Forms for ThumBelina and Tom Thumb Juniors and Seniors Preschool Students – Click Here to Download
Monthly Forms for Stay and Play Club
Before & After School Care for
Lakeland Elementary Students
January Monthly Form for Stay and Play Club – Click Here to Download
February Monthly Form for Stay and Play Club – Click Here to Download
March Monthly Form for Stay and Play Club – Click Here to Download
April Monthly Form for Stay and Play Club – Click Here to Download
May Monthly Form for Stay and Play Club – Click Here to Download
June Monthly Form for Stay and Play Club – Click Here to Download